Contact Us
Back to Top
Your electrical system must work as hard as your essential facility. It ultimately determines how resilient your facility can be and how well you can avoid outages. Strengthening your electrical system ensures you can provide critical services to your communities and prevent the safety and economic impacts of downtime.
Keep power on with a resilient system design and utility-grade switchgear. With more than a century of experience working with electric utilities, S&C has been applying its medium-voltage expertise to commercial and industrial facilities to make them as reliable and resilient as the power grid.
Who Are You?
Explore S&C solutions for your industry and tailor them to meet your system requirements.
Build a Resilient System
Resilience starts with your electrical system design. A distributed design is the foundation for continuous power and dictates how resilient your facility can be.
In a distributed design, multiple compact switchgear units are placed throughout the system, which can isolate faults to a small area. Unlike a centralized system, where a fault on a large switchgear lineup can create a single point of failure for your whole facility, a distributed system allows you to reroute power from another source. This helps you keep the power on, even when there's trouble.
These systems can also be automated depending on how quickly you need to restore power. When a fault occurs on your distributed system, it can respond in minutes—or even seconds—to avoid a long outage.
Centralized System Design
Distributed System Design

Get the Right Protection
Manage faults, avoid costly outages, and meet utility interconnect or metering requirements with S&C gear. Explore your options below.
Case Studies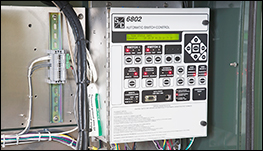 Data Center
Revolutionary self-healing distribution system improved reliability and safety, while reducing costs 40%.
Read More
Need Support?
S&C is here to help you, from services to installation videos. Explore more below.