Recognizing the Importance of Manufacturing
Back to Top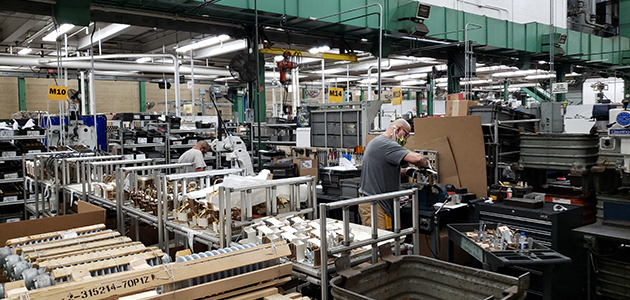 On October 2, S&C joins fellow manufacturers and community stakeholders in recognizing the importance of manufacturing to the U.S. economy and in advocating and promoting career opportunities for production and operation roles within the numerous functions manufacturing encompasses.
With COVID-19 impacting every aspect of the way we live and work, this year's National Manufacturing Day feels especially relevant. S&C's mission has always been to be an industry technology leader and community partner, while keeping the safety of team members our number one priority. From the onset of the pandemic, as an essential business we have created best practices that first and foremost provide the safest work environment possible for our team members, while sustaining our operations and continuing to serve our customers.
Successful manufacturing requires a commitment to "continuous improvement," which enables us to integrate the latest technologies into our production, expand our capacity, and help create the "grid of the future." Even in a challenging economy, the competition for skilled workers is high. Recruitment is only the first step we must take to ensure we have the expertise needed to serve our customers and a diversity that reflects the communities in which we live and work.
After hiring, we must keep our team members engaged and motivated and offer them opportunities to grow their careers. One of these opportunities, S&C's Career Framework, was created specifically for our production roles. It offers various incentives that empower team members to expand their job responsibilities, including on-the-job training that teaches new competences and skills. For those interested in leadership, the framework ultimately equips team members with the foundation required to segue into S&C's leadership programs.
Just as we invest in our people, we also continue to invest in our business in the U.S. As the second-largest manufacturer in Chicago, with several additional manufacturing locations throughout the U.S. and the world, we recognize the impact a strong manufacturing footprint makes on the wellbeing of state and local economies. In the case of S&C, the demand for reliable power is not waning; our ability to meet that demand hinges on our ability to advocate for our industry and to articulate the value we offer our team members, our stakeholders, and our communities.
Finally, I would like to thank all S&C team members who have kept production going throughout COVID-19—all while working safely, caring for each other, and continuing to redefine what it means to be an "essential" worker. In my first six months as CEO, it was immediately evident that production has been the foundation of our 109-year-old company and will continue to be for years to come. That is a testament to our team members' dedication to S&C and their commitment to serve our customers and support critical infrastructure throughout the world, during the pandemic and beyond.
Expert
Publication Date
October 1, 2020