A Top Workplace in Challenging Times
Back to Top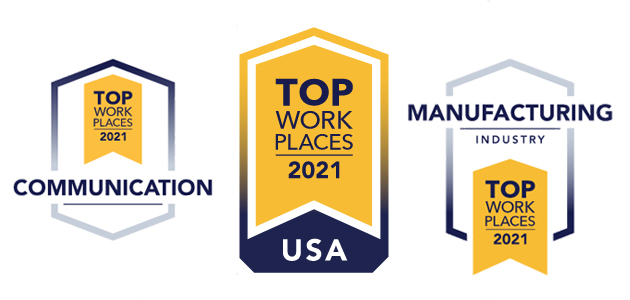 2020 was marked by challenges that tested the fabric of our communities and the resiliency of our industries. Whether addressing the impact of COVID-19, societal inequity, or climate change, in difficult times like these we see how people, businesses, and organizations act under pressure.
Within the context of this difficult year, we are immensely proud to be designated as one of the best places to work. Not only were we named again as one of the Chicago Tribune's Top Workplaces and certified for the first time as a Great Place to Work® in Toronto—our two largest locations—we were also recognized as a top employer in the United States by Top Workplaces USA. As part of this national benchmark, we also ranked the second-best workplace in the manufacturing industry and were selected for a Communications Culture Excellence Award. These accolades were based on our team members' feedback, and in times that tested the resiliency of each of us, it is an incredible honor that our team members believe S&C's culture is extraordinary and worthy of recognition.
This year, S&C will celebrate 110 years as a leading innovator in our industry. Throughout our history, we have always taken a long-term view in how we manage our business and weighed our decisions by how they will impact our most valuable asset: our people. We have navigated global events and economic fluctuations by focusing on taking care of each other, our customers, and our business. Last year was no different.
With our mix of office and production roles, COVID-19 posed new challenges to us as an essential business. In response, and often before government authorities required them, we quickly implemented a variety of new safety procedures.
For our production team members, we transformed how we operate—from reconfiguring workstations to providing computer tablets for accessing the latest information and communications. For our office team members, we quickly implemented remote-working guidelines and technologies, and paid for equipment for home offices. Month after month of this pandemic, we have kept safety at the forefront; as we headed into fall, we financially incentivized all team members to get the flu vaccine to help protect them both at work and when they come home to their families, as well as support the health care systems during the pandemic.
Taking care of our people goes beyond their health and safety; it requires dedication to making sure our work environment is welcoming and inclusive. We continue to engage our team member-driven affinity groups to celebrate our diversity, provide educational programming that provides platforms for us to listen to each other's stories, and learn from one another. We've rolled out corporate initiatives to augment recruiting strategies, mentoring plans, and internal communications related to diversity efforts, many of which are guided by the dedicated team members on our Diversity and Inclusion Committee. We're also developing new trainings to uncover unconscious biases and are actively working to expand our recruiting strategies to widen our candidate pool. We know diversity makes our company stronger, so we want to ensure S&C reflects the communities in which we live and work.
Even as we were implementing changes throughout our workplace, we continued the traditions that make our company special, such as the Quarter Century Club, which celebrates team members who have reached 25 years of their careers at S&C. We also strengthened our investment to our communities with our yearly Annual Giving Campaign, which achieved record results. S&C's culture is reflected by our actions and is truly one where our team members come first.
Although 2020 was a difficult and unforgettable year—and its challenges are still with us—it's heartening to know our team members believe S&C cares for them, even in times like these. We have a special culture at S&C, one that was immediately apparent to me when I started my position as President and CEO last May. I am grateful to our team members for putting their trust in S&C and helping create a company culture worthy of these meaningful recognitions.
Expert
Publication Date
January 28, 2021